Get Paid To Write Slogans
Are you great with catchy one-liners? Can you think of something funny to put on a birthday card? Can you sum up a product in a sentence? Can you make a point in a few words? If so, you can make money by writing slogans.
Hundreds of thousands of companies out there are in need of new taglines, jingles, and advertising slogans. When they need help, they collect submission from professional writers, and some, use slogan contest websites that you and hundreds of other writers can participate.
If you want a neat little side gig or you are new in the freelance world and would like to know more about slogans, then this guide is for you. We will try to cover the basics, and ways in which you can get paid to write slogans.
For those who have questions about Slogans legitimacy, or chances of it being a scam, then this guide cover the basics on the same.
This article also gives an unbiased review of Slogan Slingers, one of the most prominent slogan contest websites.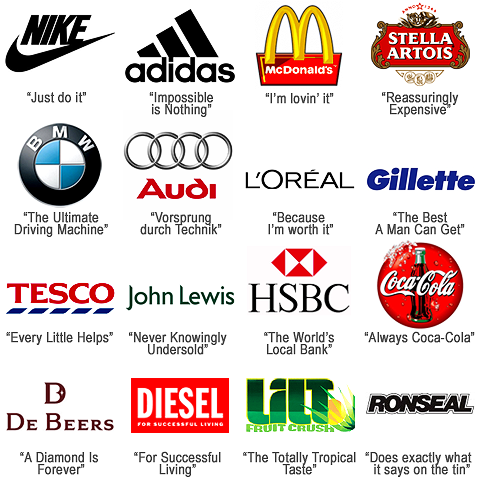 Everyone remembers a good slogan
What is a slogan?
A slogan is basically a short phrase meant to gain the attention of a particular audience or get a specific message across quickly and uniquely.
More often than not, people use slogans in advertising or religion, politics, or in other contexts to make the public more familiar with something or someone new.
In other words, a slogan communicates a critical aspect of the brand in a punchy sentence, thereby allowing a company or otherwise to stand out the competitors.
What's the Difference Between A Slogan and a Tagline?
Slogans and taglines are often used interchangeably, but there is a slight difference between the two.
If you can understand the difference you will be able to stand out in the crowd and write powerful marketing captions.
Slogans should be thought of as a readable logo. It can be emotion based or fact based or a combination of the two. Slogans can be funny, edgy, clever or serious. Slogans represent your brand as whole.
Taglines aka catchphrases, straplines are used to represent products or services. Taglines are a semi-permanent soundbite which usually lasts a year or two.
The importance of slogans
A slogan should be able to point out the advantage of a product or should be able to respond to the customer's needs.
However, before you understand how to write an effective slogan, you need to understand its importance to the company marketing campaign.
Slogans promote brands awareness.
Companies want their products to be memorable for a reason. The logo is one way that a company makes it known to the world, and I bet you recognize a company immediately by its logo.
But, the logo or the company brand rarely entice a customer to buy more, but when combined with a memorable slogan, creating brand recognition in the market becomes a breeze for the company.
Slogans help build customer relationship
Studies show that at least 84% of consumers consider the slogan to be an essential factor for credibility. Recent research from Harvard business review has shown that customers often spend 30% more when a company has an attractive slogan.
Slogans have always been cherished as a bridge to fill the gap between the business and its client. When the slogan is expertly designed, people remember the business, and in turn, they develop a positive attitude towards it, and this means more sales for the business.
Makes products more desirable
An excellently designed slogan tells much about a product for instance what the product is all about and what it delivers to the customer. In shorts, a tagline can make a company product look attractive or not.
"Companies pay a lot of money for a catchy slogan that their customers will remember them for."
What is Slogan Slingers?
Some companies use their team of marketers or writers to create taglines or slogans, a majority of them outsource these to freelance writers who are able to provide more effective taglines.
Slogan Slingers is one of the few slogan contest websites that allow anyone from you and I to professional writers and experts to make money writing slogans by participating in a contest, mainly competing to come up with the best slogan for a company.
A catchy slogan could get paid as much as $999 but its usually in the $250 to $300 range. You can get paid to write slogans if you are slick with words and can do it in under 10 words.
Slogan Slingers was started in 2010 by CEO Richard Davis who worked in advertising as a copywriter then he owned his own Agency.
He had the idea for a crowd sourcing site for ad slogans and taglines for the fraction of the cost. Slogan Slingers was born.
How does Slogan Slingers work?
The process of the contest is straightforward; a company will fill out a creative Slogan Slingers website, pretty much the same way it works with any other creative advertising agency.
The registered writer begins to submit their slogan ideas (registration is free for writers from U.S, U.K, Australia and other parts of the world).
Writers compete against each other on the contest competing for a cash reward put by the contest holder.
The number of submissions is dependent on the amount of the prize, and the contest holder pick the winner, if not the company will, but this is unlikely going to be the case. In some cases, I have seen the contest repeat as the didn't find anything they liked.
Usually, a business using an advert company would need to wait for several weeks for a writer to provide the most desirable slogan idea.
To many clients, this is not ideal, and it could cost several thousand dollars. Slogan contest provided by Slogan Slingers can generate over to 100 plus slogan ideas, which is ideal for many companies.
For a writer, the contest is a perfect opportunity to not only make money writing slogans but also chance to compete with fellow professional writers all over the globe.
You may receive emails every time a new contest is placed, and there are more contests that you can have time for.
Is slogan slingers legit?
Yes, Slogan Slingers is pretty much legit. Well, it's logic to doubt that anyone would be willing to pay close to $1000, just to have a 5-word tagline written.
The idea seems pretty simple and easy to generate that kind of cash! But, once you understand the value of the taglines and slogans to a company, you will for sure appreciate the legitimacy of slogan contest websites, and you will for sure be willing to write slogans for money.
Besides, it is not as easy as you think; remember only original work is to be submitted and even modifying another writer's work is not considered to be original.
Creativity is of ultimate essential to win the contest. You will need a little luck vs the quality of competition but for 5, 10 or 20 minutes work you could win.
Can you make money from writing slogans?
Yes, you can quickly make money writing slogans, and you do not need any experience to do so or any specific connection to a prominent advertising agency, or other kinds of advertising companies.
You do not need to be a professional freelance writer, all you need is a little creativity. Writing slogans for money can maximize your earnings if you know how to do it right.
Small business and advertising companies across the globe are more than willing to pay you for creating those catchy, funny, and witty taglines for their marketing campaigns.
At Slogan Slingers, slogan writers make as much as $999 for a single line or two.
Other slogan contest websites?
Slogan Slingers is among  a few long-standing contest websites. It is free to sign up and present an excellent opportunity to make writing slogans, but there are a couple of other websites and freelance sites where you can write slogans to make money.
Namingforce is another site where you can receive an award of $250 for a single tagline. Open to US and Canadian citizens.
Slogan Seller offer contests that its seller can join.Also, they show you multiple streams of income for any slogans you make. The platform is very popular but also competitive.
Participating in as many contests gives you more chances of making money and will help you sharpen your skill thus keeping yourself on the wave.
You can begin submitting your catchy slogan by checking these websites and keep searching for a more legitimate platform, but I would recommend that you check out Slogan Slingers as often as you can and enter.
Finding Slogan Writing Jobs
When it comes to trying make a consistent living from slogan writing then you will all the usual freelance sites apply. All you need to do is search for slogans on these sites.
Build up your rep on these sites and you will be able to charge more for your services.
Slogan writing tips
The key to writing a good slogan is to create something memorable but at the same time something that represents a company brand.
Three things determine whether customers will like a slogan or not, the creativity in the slogan, the clarity of the message and the familiarity with the brand.
Think about Nike's or McDonalds slogan, 'Just do it' and 'I am lovin' it,' what's unique about them?
They both can be easily remembered; the customer can relate them to the brand and they are creative. So, when writing slogan always keeps these three things in mind.
Here are some valuable tips that can come in handy when crafting a slogan;
Keep it simple – Simple taglines are easy to remember, but make sure they are catchy and not that long.
Be consistent – The slogan should be aligned with the company logo, the projected image, and the product that it offers.
Focus on uniqueness – Do not just rewrite someone else idea and make it your own, be creative, be unique, figure out what the company unique selling proposition could be and use that to come up with something unique. If you are wondering whether a line is unique, just read it to a few friends, and see how they react.
Make it timeless – Craft a slogan that won't change with time; think about the slogan's longevity. Choose words that will stand the test of time.
You can quickly make money writing slogans, but you need to be creative and smart not to mention patient.A slogan contest website like Slogan Slingers can help you maximize your earning, but you need to throw dices in other platforms as well.
Like, comment and share.
Good luck