Standing on a Goldmine – Selling Pictures of your feet.
Yes, you read that right you can make money selling feet pictures. There is a massive market out there for those who might have good looking feet and are looking to make some extra money. If you put in the work well this can be quite lucrative.
This article will delve into why people like to buy feet pics, how you can get paid online to take pictures of your feet. Also, some tips to get feet like a model.
So, before we get any further, not all people who may want pictures of feet have a sexual fetish. Some just like the look of good-looking feet presented in a way that appeals to them. And in some cases, you may have caught the eye a talent scout who may be on the lookout for new foot models to advertise the latest shoes, sandals etc.
So, let's dive in…
Can you really sell pictures of your feet?
Yes, there is a big market for people that are looking to purchase pictures of feet.
They are looking to spend money on pictures of feet because they love looking at feet and have requirements that may need to be met.
Are a lot of people interested in feet?
There are millions of people that love feet and are willing to pay for pictures of healthy and attractive looking feet or whatever tastes they have. They want pictures of feet that are tailored to their taste.
This could be pictures of bare feet, feet in stilettos, feet in stockings etc.
Millions of men and women (they exist too) that enjoy looking at feet. Many of them will not admit it but they are attracted to feet. An attraction to feet is more common than most people would think.
Even Hollywood likes feet, OK they like everything in Hollywood. Some of your favorite movies have foot scenes. Through out the movie Boomerang the main character is obsessed with finding a woman with perfect feet.
What movies do you remember that has foot scenes?
is it illegal to sell pictures of your feet
In many countries like, UK, Australia, USA, Canada, New Zealand it is fine to sell pictures of your feet.
If your county has strict dress code laws for women then it is very likely that it maybe illegal.
Remember, that you need to be of legal consensual age usually 18 to sell your photos.
If you are a younger teen then I have written a killer article on many different ways you can make money  with these side hustles.
What is a foot fetish?
Before you can sell to your client, you need to know your client.
A foot fetish can be a sexual desire or an interest in feet. This can be known as paraphilia or an attraction to a body part. People that have an extreme interest or sexual interest in feet may want to touch or kiss the feet of another.
They may also like to have their feet touched or kissed. Looking at images of nice feet and these feet in different types of footwear may turn them on. They may enjoy this as part of their foot fetish.
People may have very specific likes when it comes to feet. There may be a certain type of foot that they enjoy looking at. There may be a certain type of shoe that they really like.
Others may like to look at bare feet or feet that are in sandals. Some people like their feet or the toes that they are looking at to have a specific length or be a specific shape.
The arch of the foot can arouse some people. There are many people with a foot fetish that like large feet. There is   a market for manly looking feet. There is something for everyone when they have a foot fetish.
Take time to learn the terminology of your clients it will make targeting the right clients easier if you know the language.
Now we have an idea of your potential client, you have a big audience of people looking for pictures that you could sell them and build a great revenue source.
"You could quite literally be standing on your best asset that could earn you thousands."
Why sell pictures of your feet?
With quite a few million people willing to spend good money on pictures it makes perfect sense to get a piece of the pie from the comfort of your own home or wherever you choose to take your pictures
There is no pressure for you to sell your photos if you are not comfortable with it. Selling pictures of your feet is a personal choice. You should sell the pictures because you are comfortable doing so and it is something that you want to do.
How much money can you make selling pictures of your feet?
The amount you will get for the pictures is based on the amount that your clients are willing to pay for them. And this can be negotiated by you.
Some people can make several hundreds of dollars a week selling pictures of their feet. Other people can make a couple of thousand dollars a year selling foot pictures like this Canadian woman who makes $90,000 per year.
Now, you might not be able make that kind of money from the start but with a little work you could earn a few hundred every month. Then you can grow it from there once you gain confidence in your new venture.
Remember, take pride in what you do.
This Youtuber makes money on the side and provides some good information on her experiences.
How you will get paid selling pictures of your feet?
Before we jump into the where you can find your audience we need to make sure you know how you will be paid.
You will need a bank account or a pre-paid card for all these to get your money.
If you join some platforms they will handle all your payments and send you the cash minus their cut.
Sites like
Onlyfans – takes 20% of your payment when you decide to collect.
Instafeet – adds 10% to subscribers that signs up to you and takes that 10% payment.
You may take payments from your audience directly via the below methods:-
PayPal -takes between 2-5% per payment.
Cashapp – Use this code CLVSHDQ to get $5 if you signup and use. Adds 3% to credit card payments and 1.5 fee for instant bank deposit.
Venmo – takes 3% for credit card payments.
Never give someone your bank account details. The above methods will shield you.
How to sell pictures of your feet?
To sell pictures of your feet you're not selling the way that your feet look in real life, but you are selling the way that they look in a picture. You need to take care of your feet and you need to present your feet in the best way possible.
Your need toes look good and they need to be well kept and manicured. This will allow your entire foot to look better and you will have an easier time selling your pictures.
You might want to think of locations where you want to take your photos. Will you take them on the sofa, in the bath, in the park, hanging out a car window? The list will be endless, have fun coming up with photo ideas.
Rest assured your clients will come up with some also.
If you can afford it, you should to have your feet photographed by a professional photographer. This will allow you to sell professional pictures of your feet at a higher price due to the quality of the photo.
Where to sell pictures of your feet?
The internet is one of the best places you can sell photos of your feet. If you look hard enough you will find so many different avenues. As I like to make money online and from the comfort of my own home, I would look at the below sources.
Selling feet pictures on Twitter
There is a good foot pic audience on Twitter. This platform gives you a lot of freedom to post what you want.
There is a lot of competition on this site but you can get your own lane here.
You will need to setup an account. Fill out your bio with exactly what you offer.
Make sure you have a website link to where you hold your pictures. This could be any of the other platform we discuss later.
If you can get a nice banner done for your homepage. It can separate you from the competition.
Not many people do this but you want to stand out. Try Fiverr or Upwork  for a good cheap banner for $5-$15.
Watermark the photos you put out.
Use the correct hashtags to get your pictures and videos in  front the right audience. 
#footpics #feetpicsforsale #sellingfeetpics #sellingfeet  #feetbuyers #Feetfettish #feetseller #footfestish #foot #FOOTWORSHİP #feetbuyers #feet #feetpic #feetpictures #feetlove #footlovers #FeetAddicted #soles #barefoot #sellingmysoles #cutefeet #fishnets 
Search the correct hashtags to the right audience looking to buy.
#buyingfootpics #buyingpics #buyingcontent #buyer #realbuyer #paypics 
Use these hashtags to check out the competition and how you can do it better.
How to sell feet pics on Instagram
Instagram used to be a great social media platform to sell  feet pictures.
But, they have slowly started to make it harder for people to make money selling feet pics so openly.
But rest assured you can still make alot of money from instagram but just be aware Instagram may ban your page from time to time.
To avoid this you may need to add  different content around things you might like or are interested in. The world is your oyster.
There are many foot models on Instagram selling feet pics and you will find all different types of feet being displayed. A good place to see the competition and what they're doing.
Use the correct hashtags to get your pictures and videos out to the right audience.
Hastags like #feet #toes #soles #footfetishnation #feetworship #feetfetishnation #prettytoes #toesdone #solesfetish  #solesociety #softsoles  #feetporn #prettyfeet #instafeet #cutefeet #beautifulfeet #barefeet #toes  #sole  #pedicure #socks #toefetish  #highheels #footmodel #footporn #footgoddess  #thepose #teamprettyfeet #socks #sockfetish
Those hashtags are a few to help you start to target the right audience.
This is a good seller on Instagram and this lady makes $30000 per year.
Remember don't just pick hashtags that have large amounts of posts. Mix it up so you can be seen. Use a mix of small and large post hashtags that are being are actively being posted to. Use between 11 and 30 hashtags per post.
Most of all…experiment to find what works best for you.
Case Study
Here is how I would do it in this video.  I had a look at a few accounts on Instagram and discuss how you could make even more money.
Selling feet pictures on Instafeet
This is still a new platform but, it is only based around the love of feet so you have a keen audience.
Once you get setup on Instafeet, you can setup subscriptions for you exclusive content.
Your audience will need to sign up to your content.
This is where your quality photo will give you an edge.
When starting charging your audience a lesser amount can get you more money if done correctly.
See what the competition is doing.
Instafeet will handle the payments then pay you.  They will add 10% to subscriber payment and take from that your price will not be affected.
Selling feet pictures on Only Fans
Like Instafeet, you can create subscriptions for your audience to signup to.
When you signup make sure you have a clear image and banner to stand out from the crowd.
Make sure that your bio describes what a subscriber is going to get in their subscription. Do not be vague.
The competition is fierce here as you will be going up against adult performers as well.
If you can make it here you can make it anywhere.
In my research I have heard that some people have had issues being paid.
I suggest taking your cash out when you hit your minimum.
Selling feet pictures on KIK
If you haven't heard of KIK then you are missing a trick.
KiK is an anonymous instant messenger chat app that allows you sent multimedia and do live calls to name a few.
You need an email to signup.
Find groups relating to feet and promote your pictures and videos for sale via searching for hashtags #.
Selling feet pictures on Facebook
There are many groups and people on Facebook that are interested in purchasing pictures of feet.
Your best method here is to join as many groups as possible and recruit as many clients as possible in these foot fetish tailored groups.
Search for the terms foot fetish and other foot worship groups and join them. 
You will also find a lot of information about what people like in these groups. 
Sell your foot photos on a blog.
Now, if you get an audience from the above social media sources then you should create a website that is yours and you will own the audience 100% especially if you create a mailing list.
The mailing list will make you so much money if used correctly. You can dip into that well over and over.
The trick here is to have traffic coming from all your other site activities coming back to your own site.
You could utilise the power of youtube, google, social media and send them back to 1 point, your website.
You could create a membership site where your clients pay you every month to see your latest exclusive photos or videos.
With a little thought you could build a website that makes a lot of money.
How to sell feet pics on Craigslist.
People do sell pics of their feet on Craigslist. This classified ads site has so much traffic that if you nail the ad you will get clients from all over the world.
Check out this ad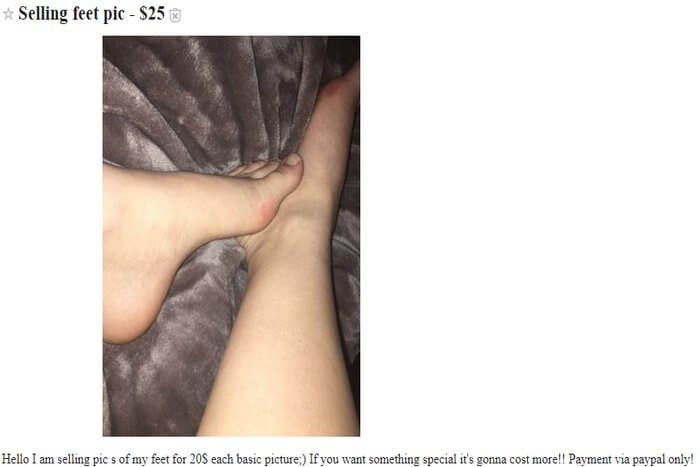 This is a powerful advertising method if done correctly.
Here is how you do it properly:-
Create Craigslist account and logon
Click on the state/city you want to post your ad to. (Start with your local area first)
Create your ad and select your section you want to post to. (Gigs and Community are best and free for this but do try others if you like)
Add a zip-code/ post code. (Just google one from the town you want to post in).
Create a post and add quality pictures.
Tips
If you have a new account just post in your local area to start.
When your account matures then post in surrounding areas.
Post 3 times a day.
Use several different ad copy to no appear spammy.
This method takes time but is free. If you are short on time then pay someone on Fiverr to do this for you.
Looking to sell your feet pics?
 Websites that Sell Feet Pictures
There are photo websites that will give you a platform to sell pictures of your feet. They are legal and people will pay good money for these pictures.
Some will pay you to upload pictures if they like the content. Others will pay you when the pictures are downloaded.
You might have used some of these sites before to find pictures for other reasons. Here are some popular websites that you can upload your pictures:
All the photos in this article have been bought from Adobestock. You do not want to see my manly feet.
How much to charge for feet pictures?
That is the million dollar question. You and your client negotiate a price. But the typical price is usually between $5 and $100 if you are lucky you can make more.
You can get creative and create bundles of your pictures so instead of 1 pic for $10 you could do 3 or 4 for $25.
Also, if you build a rapport with your clients you may get repeat business over and over.
This is how the people who make good money do it.
How to stay Safe online
I want you to be able to make money in a safe space and being online helps but it does have pitfalls. I would suggest that you keep your business and personal social media separate.
This way your family, friends and work won't know what you do if you're worried about who knows.
You should think about giving yourself a different name as well.
Instagram gives you 5 accounts with different email addresses  per phone number (app).
Facebook you can have multiple just not on the same email address.
Use a new email address for your business so you don't mix your business with your personal.
The choice how you create your profiles are up to you.
If you feel this isn't for you then read some of my other money making opportunities from writing poetry, proofreading, transcribing or even from exercise. You can make money from the things you already do.
Becoming a foot model
If you have attractive feet and people always think your feet look good you may want to think about selling pictures of them. You can make a career as a foot model.
Shoe Size
Size does play a role in foot pictures. You never see big footed shoe pictures. The average woman has a foot size that ranges between a 5 and a 7.
The average size for men is between an 8 and an 11. The exact measures of the foot will vary based on the likes of the clients and the type of shoes that a company is looking to sell.
Be sure to check the specific size requirements before applying for a foot modeling job. Some jobs want average sized feet while some may be looking for larger or even wide feet.
Foot Fitness
Feet fitness is important when modeling the feet. People like to look at slender and shapely feet. There are ankle exercises that should be done.
The foot should be massaged often especially the soles of the feet.
Be sure to check the feet for blisters and sore spots from shoes.
If you do get a blister visit a doctor or wait for it to heal before taking a picture. The foot must be clean and in good health.
Expressing Emotion through your feet
It is important to show emotion using the feet. There are pictures that will use the feet to show a certain emotion. Your feet should not express pain or nervousness.
Practice the feet position when you are feeling several different emotions. Think about the products you are selling and how they would want your feet to look at.
Do this several times before you are going to take a picture. You need to learn how to express several different emotions through your feet.
When to take pictures of your feet
After a pedicure or once the feet are well rested then you want to take a picture of the feet. Think about the poses that are featured in popular magazines and practice that pose.
You can get feedback from friends and family as well. Once you are confident about the way your feet look, get some pictures taken by a professional photographer. You can have an entire foot portfolio made.
You should look for a photographer that has experience working with feet. There are always agencies looking for beautiful feet.
How to Get Beautiful Feet
Cleaning your Feet
Feet look good when they are clean. The surface of the foot must be cleaned. Feet that are not clean will not be able to take in moisture and nutrients.
They will have microbes that will make the feet look old and can lead to cracking of the skin.
Do not forget to take care of the cuticles and the area between the toes. There are some easy ways to clean the feet.
Use soap and warm water for cleaning. Do not use water that is too hot.
Clean the feet before going to bed. After a long day, the feet have been exposed to many toxins that need to be removed.
Exfoliation
Exfoliation will help remove dead skin on the feet. A body scrub can be used. This should be done weekly.
A pumice stone is great on the heel.
Be careful when rubbing the upper part of the foot.
Moisturize
Your feet need moisture but by nature are designed to be rough to react to the tough environment they encounter if you walk outside barefoot.
Feet need as much moisture if not more than the rest of the body to avoid tough rough, cracked skin.
There are some tips for adding moisture to the feet.
Use a high moisturizing foot cream and not just anybody lotion.
Wear cotton socks at night after rubbing in the cream to keep it from evaporating.
Use moisturizer after a shower.
Always wear socks to help protect your feet.
 Protecting your feet
Protection is better than curing damaged feet.
Do not keep your feet bare for a long period of time. This can lead to irritation and dryness.
Do not walk in heels.
Shoes that do not fit right can lead to blisters and corns. Be sure the shoe fits correctly.
When to Go Pro
Feet need care. A foot doctor may need to be called to fix ingrown nails or any pain.
The foot can be cared for with a pedicure. Be sure to find a clean shop that has good practices.
Cracked heels and blisters can be painful and lead to health issues. If the foot is in pain for more than 3 weeks, it is time to see a doctor.
Polish
Be sure to select polish carefully. Some polishes contain harsh chemicals that can make the nails discolored or brittle. Always use a base coat first and then add the color. This will protect the nails from the polish.
Using nude is a good neutral color to use.
Do not use blades
Keep knives away from the feet. Do not use DIY methods to fix common feet problems. Do not remove dry skin or blisters by yourself.
You can make things worse. You should leave this to a professional.
It takes some effort to properly care for your feet. These extra care steps can help you have great looking feet that will take some nice pictures.
These tips will help you get nice pretty feet and you will be able to make money off them.
 Conclusion
As you have seen it is possible to sell pictures of your feet online and make a nice profit. This may seem a little odd, but it is a great way to make some extra money over the internet.
As with anything online you should be careful and keep all your dealing with above board and legit, and not enter anything weird you don't agree with.
There are many great places online where you can sell pictures of your feet so find a site or a group that you are comfortable working with.
You might be standing on a goldmine.
Good luck.
Like, share and comment.
Repin