31 Online Transcribing Jobs For Beginners
I've known about transcription from the time I was a little boy. My mother during her career was the Mrs Miyagi of her office. As a kid I watched in awe as she taught students how to touch type blindfolded. It was a mind blowing sight.
Back then work for my mom would come via hastily hand written letters or via mini tape recordings for her to type and return to who gave it to her.
Who knew that the internet would flip this type of work the way it has. Work comes in from all around the world but the concept stays the same. Read something, listen to something and then type something correctly.
Transcription jobs are plentiful and if you have decent typing speeds you can earn some supplementary income or  a main source of income as a freelancer.
Now before we get down to the 31 sites that require no transcription experience to join them you might need to look at the next 2 sections.
Tools of the trade
If you are on a budget you only need 3 things to start transcribing.
A Laptop or desktop computer.
Good Internet connection.
Speakers or headphones (recommended) to listen to audio files.
While I did say 3 things you need if you want to earn more money you need to get a foot pedal.It will make your life so much easier when it come to playing audio hands free. Every second counts and after a while it becomes second nature.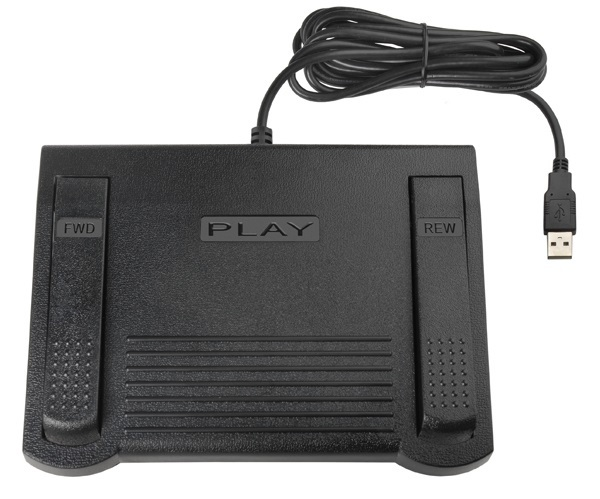 While this is an older model it shows you the basics of a foot pedal.
Press your foot on play and the audio plays. Remove it and it stops.
If you press the FWD button it forwards the audio.
Likewise if you press the RWD it rewinds the audio.
Both the FWD and RWD buttons can be switched if you like.
With
Training
Before you jump into the world of transcription it maybe a good idea to go through the basics when it comes to general transcription.
Try this free mini transcription course  from that will show you the basics.
When you complete their general course you can also try out their free mini legal transcription course to see which interests you more.
31 Online Transcribing Jobs For Beginners
Accutran Global
Accuntran Global hires transcribers around the world at different times. However, there are times when they've lots of work and non-peak times when they have limited or no work at all. The rate for starters is $0.005 and it is done on the 15th of every month. To become a transcriber, you need to take a transcription test and pass to make sure that you are competent. Since they require you to complete tasks ASAP.
Accutran Global is not ideal for caregivers or parents who are busy throughout the day.
Allegis Transcription
This is a new transcription company and it has been doing very well over the years. The company specializes in insurance transcription mainly and it has a continuous job flow. As a result, if you don't have a full-time job and you are looking to make money from home, this is an ideal choice.
However, to become one of the transcribers, you need to have knowledge in the insurance sector, have access to a foot pedal and be willing to work tirelessly depending on the number of jobs received.
Appenscribe
This site offers transcription jobs to people all over the world provided they meet their requirements. To get started, you will have to register and pass two transcription tests. Appenscribe contractors have different pay rates although you can expect a rate of $0.005 per word depending on your skills. Nonetheless, even though transcribing jobs are not available all the time, you can claim work at any given time especially if you can speak multiple languages.
BabbleTYPE
Get jobs globally with No experience necessary. As with many companies on this list Babbletype expect you to be a native English speaker. The types of jobs on offer are transcription, proof reading and translation. Pay is between $0.13 and $1.60 per audio minute depending on your task.
Bam
Although Bam offers entertainment transcription services only, you can get research, legal, finance, corporate and general transcription jobs as well. If you are interested in being a transcriber at this site, you will have to send them an email at bam@bamtrancription.com or contact them directly for you to be considered. Remember, you will have to take several tests to show them you are skilled and experienced in transcription jobs.
Casting words
In Casting Words, you can get jobs to form Mechanical Turk or The Casting Words workshop. Working in Mechanical Turk is hard because you may get difficult jobs or fail to get transcription jobs at all. However, to get paid, you just need $1.00 in your account!
CrowdStuff
Just like CastingWords above, CrowdStuff posts their jobs through Amazon Mechanical Turk. Therefore, to get started you need an Mechanical Turk account so that you can get either transcription or captioning jobs. MT is an Amazon company which enables you to create an account and earn money from the same account. Once you've signed up for the account, there are numerous jobs posted for you to choose from.
Daily Transcription
Daily Transcription is always looking for transcription skills from all levels provided they are available. They do not have specific work hours i.e. you can work at your convenience to provide legal, entertainment and corporate transcription skills. To get started, you will have to fill a form and then pass a test crediting your transcribing skills.
Dictate Express
Dictate Express provides legal, medical, business, media transcription work  based in US.
They have a 4 test requirement of spelling, comma use, confusing words and a transcription test.
Focus Forward
Focus Forward is a US-based company which hires experienced typists to offer TV logging, transcription and focus groups tasks. You can get paid $15 for transcribing a 10-minute audio especially if you are a skilled transcriber. Payment is either mailed or deposited directly to your bank.
Go Transcript
Here, you can get transcription and data entry jobs. You can make some good money but passing the test is really hard because the recording has bad-quality making it hard for you to transcribe easily.
So, even if you fail to pass the test, you can try again after a few days.
GMR Transcription
To become a transcriber, you are supposed to be willing to transcribe and proof 60 minutes of audio per day. These audios are mainly medical condition interviews although they may vary depending on availability, need and time. It is important to note that a real minute and an audio minute are two different things! Therefore, you should be aware with these terms to avoid getting confused or doing it wrong.
Hollywood Transcriptions
You don't need any level of experience to join the site but you should have good typing skills i.e. at least 65 wpm. To try your luck, visit their website to send them an e-mail.
Neal R. Gross
This site requires transcribers who have several years of legal knowledge. When signing up to the site, you are required to return transcribed files the next day, work at least 30 hours a week and type at least 60 WPM.
In addition, before you get started, you need to submit a resume and a cover letter through their web page.
1-888Type-It-Up
Formerly known as Verbal Fusion and it has the best rates for beginner transcribers. To become a part of 1-888-Type-It-Up society, you need to be a US resident.
Then, you need to fill out a short questionnaire after which you will be contacted to take a short transcription test. The test is done to determine whether you've any skills or experience in transcription prior to being recruited.
You should understand that it may take weeks or months after filling the questionnaire before you are invited for the test! Therefore, you should be patient and prepare in advance to avoid missing a position once you are offered a chance to prove yourself.
Also, they charge a non-refundable application fee of $10.00. But, if you are successful, you can be one of the contractors on the site.
QuickTate
One of the best sites for beginners because it does not require a lot of experience and knowledge. However, when registering, you need to give your references to be considered. The site hires in the US and abroad provided you've met the requirements.
Once you've started working, you will get a payment every Monday making it a reliable source of income. This company may not offer the best rates but since you manage your own time, you can make extra money to improve your living standards.
 Rev
Rev hires beginners and experienced individuals to its platform. You will need to have a good grasp of English and have the ability to follow guidelines. You have to take an  online test to get in. You will get to chose from transcription, caption, subtitle and translator jobs.
Pay is between $0.40 and $0.75 per audio minute so expect to make on average $8 to $15 dollars per hour.
If you fail to get in you can try again in 45 days.
To get the best from Rev it is best to buy a foot pedal.
RNK Transcription
To be considered, you need to submit an e-mail with your resume too. RNK offers entertainment and legal jobs only after passing a mandatory test. Candidates who have the capability of playing audios and videos and transcribe simultaneously have an upper hand despite their previous typing experience.
Scribie
This is one of the platforms beginners run to when looking for transcription jobs. This site hires transcribers worldwide and they pay using PayPal. As a result, they have thousands of transcribers on their waiting list and their pay rate is $10.00 per audio hour.
However, if you complete 3 hours of audio in a single month, you get $10.00 bonus to motivate you. Nonetheless, the site has a low pay which discourages most people from registering and working for the site.
Good thing is, the site has no commitments and cash limits whatsoever. This means that you can work as much or as little as you want because you manage your own schedule.
Speak Write
Get paid up to $60 an hour transcribing law enforcement, government, legal and other private sector clients' tasks. In a month, advanced transcribers can take home $3,000 while beginner transcribers can make $300 in a month!
Nonetheless, this company hires transcribers from the US and Canada only.
SpeechPad
Speechpad offers freelancers of all abilities new and experienced a flexible work balance. They offer video transcription, voice to text, audio to text to name a few types of jobs they offer. SpeechPad work with Yahoo, Netflix and Hubspot to name a few companies on their books.
Once you join start with low paying jobs. You will get $0.10 to 0.40 to start with but as you progress, receive good reviews and take a test you will gain access to higher paying jobs. You get paid every 2 weeks via Paypal.
A foot pedal is recommended.
3Play Media
After passing a series of proficiency and skills test, you can get editor positions as well as transcription jobs from 3Play Media.
In addition, you must be 18, good at internet searching and type at least 75 WPM to be considered. The pay rate varies with the type of project, but it can range between $10 and $30 depending on your speed and efficiency.
Excel knowledge is also an added advantage especially when a project requires such skills.
Based in the US.
Tigerfish
To be considered as a transcriber, you will have to complete three five-minute tests accurately. When you are done and accepted as one of the transcribers, you can work on numerous tasks such as law enforcement, interviews, documentaries and focus groups.
Each of the three tests requires a maximum of 20 minutes to be completed. If you are not done in twenty minutes, transcription might be hard for you especially if you are a beginner.
The tests are usually standard with an aim of challenging how you think, type and reason in a limited amount of time. Time is of the essence because the transcription jobs will also have a timeline and you will be required to submit before the time runs out.
Keep checking back with Tigerfish to see if they're taking on new Transcribers
Transcription Hub
With jobs open across the world, Transcription Hub is a company that hires
Transcriptions 'N' Translations
TNT is a site based Miami that mainly focuses on main names like Discovery channels and Animal Planet. This means that the site requires skilled and experienced transcribers. Hence, if you pass the skill tests, you can contract with them for numerous jobs at a good pay. To register and get started, fill a form on their website and then submit your resume indicating your areas of expertise and interest. It is vital to research and knows more about the site before submitting a request to enable you to make the right choice.
Join Transcriptions 'N' Translations
TranscribeMe!
If you are looking for transcription jobs in both Spanish and English you can earn extra income. You will have to fill out a form and then get directions to take a test which will determine whether or not you are successful.
When you pass the test, one of the admins from the Operations Department will contact you within 48 hours to discuss the next steps you should take. However, if you are not successful in your tests (you failed), you should not be worried because you can retake the test after 24 hours to guarantee that you deserve a chance.
The rate of work is determined by the number of audio hours you transcribe every week because payments are made weekly.
To use TrancribeMe, you don't need any specialised equipment or software. Instead, you just need any browser whether Mozilla or Google Chrome browser.
TranscriptionWing
You can get paid up to $60 an hour transcribing jobs whether you are a beginner or at an advanced transcribing level.
Terescription
The company mainly focuses on the entertainment industry only. Terescription hires both beginners and experts to write for them provided you can write 70 WPM. You need to have a foot pedal to join other transcribers.
Ubiqus
The site offers a wide range of transcription jobs from summary writers to verbatim transcription services. When getting started you will have to pass some tests to get through their application process. However, all applicants start out at the same rate regardless of their experience i.e. you will start from the lowest level and rise as you transcribe and do more tasks successfully.
Based in USA, UK, Canada, France, Italy, Spain, Belgium and Ireland.
Ubiqus prefers hiring native writers and it pays twice a month i.e. after every two weeks.
Join Ubiqus US or Ubiqus Canada
 Way With Words
Hires Globally, no experience necessary. You will need to complete 2 tough tests the measures your grasp of the English language. One is a language test and the other is a 68 minute transcription test. Pay will be $.40 to $1.38 per audio minute so between $6 and $20 per hour.
Make Money Typing Today
We have come to the end of the list. I hope you will find a few companies that pay you the extra income you require. Let me know how you get on with these companies.
Like comment and share.
Good Luck.