What Is Affiliate Marketing And How Does It Work?
Every day more and more people want to make money without going through the stress, hustle and bustle of working for someone or an organization. If you are in this category of people who want to work for themselves, decide their own working hours and be their own boss, then you might want to investigate affiliate marketing. With it, no boss, you set your hours and you work from anywhere you please.
Affiliate marketing is known to be one of the best advertising tools. It has grown immensely for years. They're increasing numbers of webmasters who have begun to see how this marketing method is the most efficient way of handling online advertising.
To be a successful affiliate marketer takes time and effort. However, fantastic money can be made through this business model when done correctly
All these are types of Affiliate Marketing sites you can make.
What is Affiliate Marketing?
The life blood of any company is customers. No matter the size of the organization they all need customers. Being that all companies are not created equal affiliate marketing allows smaller companies to compete with bigger companies. Affiliate marketing allows companies pay online entities (you and I) certain commissions for referrals made to their business. In other words, third parties get paid to promote other people's products or services. Affiliates are independent entities and not part of the company. They maybe bloggers, website owners, people without websites, social media geeks or not.
You will be paid for a referral completing a particular action. This could be them entering an email, buying a product, downloading an app or toolbar, getting a loan or insurance, the list is varied.
What are Affiliate Networks?
Affiliate networks are the middlemen between advertisers or merchants and affiliate marketers. Affiliate Networks give website publishers the ease and ability to locate and also participate in affiliate programs. They chose from the programs those which are more suitable for their websites and will bring in good profits for them. Affiliate Networks allows websites that are into affiliate programs (merchants) to reach a more and wider audience. They do this by the promotion of their affiliate programs to all of the publishers that are in the affiliate network.
Affiliate Networks are the organizers and administrators of affiliate programs. While Some programs may work on many networks, others are combined on a single one. Mostly, major affiliates opt for multiple networks. Cookies are used to track the progress of a customer. This is done from the affiliate's website or many affiliates' websites) via the shopping cart owned by the merchant. Commissions are then automatically paid to affiliates. Payment will be on the merchant's laid down rules.
"Getting paid to promote someone else's product can put alot of money in your account fast if done correctly"
Types of affiliate marketing
Pay Per Click or PPC
PPC is an Internet advertising method aimed at controlling traffic to websites. The affiliate marketer gets paid by the merchant for every click on the ad. PPC is determined by 2 models and they are flat rate PPC and the Bid-based PPC.
For Flat rate PPC, both parties (merchant and affiliate marketer) agree on a fixed price that will be paid on every click. There is a rate card used by the advertiser to list the Pay Per Click in different areas of websites.
The Bid-based PPC, affiliate marketers compete with each other, they sign a contract in this regard. The auction is hosted by a merchant while each affiliate marketer states the highest amount of money they are willing to offer the merchant or affiliate marketing network.
Pay Per Lead or PPL
Pay Per Lead is also another payment method in online marketing. When a publisher successfully generates a lead, the advertiser pays for it. However, the lead has to commit a "buying" act thus becoming a potential customer. Even if the patronage is not done, once such prospective customers follow up to a good stage of close to buying, the publisher is paid. In other words, payment is made depending on the quality the lead brings such as the closeness of the visiting customer to become an actual paying customer. PPL is often and easily abused by affliliate marketers because of their dubious ways of generating leads in order to make more money.
Pay Per Sale or PPS
This form of payment is more favorable to the merchant than to the affiliate marketer. This is so because payment is only done when and if the referrals made by the affiliate marketer leads to an actual transaction between the merchant and the customer. While merchants prefer to go for the PPS route mostly they sometimes have to go for the Pay Per Click because affiliate marketers choose this.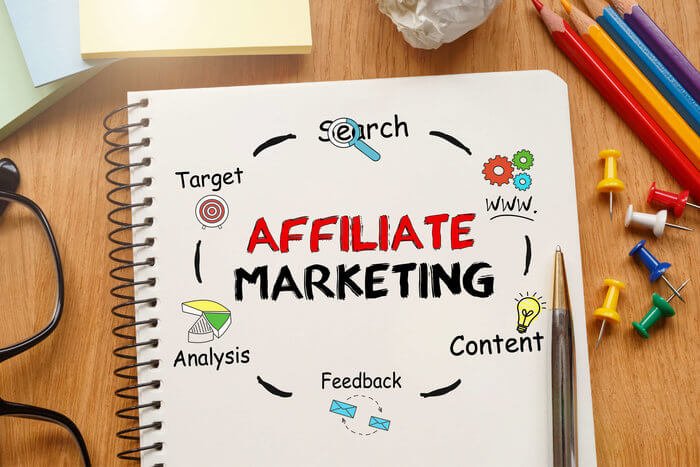 Affliliate Marketing simplified
Pros And Cons of Affiliate Marketing
Pros of Affiliate Marketing
So, what are the pros and cons of affiliate marketing for both the merchants and affiliate marketers. It can be a match made in heaven or hell. You decide.
Inexpensive
Since affiliate marketing is performance based, it is not expensive for a merchant. The merchant does not have to pay for every referral or promotion, he will only pay for that which yields transaction within a set time that will be stipulated.
As an affiliate marketer it is up to you to find customers that need that product or service. You decide how you can find this person / avatar consistently. Will it be on social media in groups, fan pages, blogs, paid traffic the decision is yours.
Available options
Merchants or agencies have the opportunity to either have an in-house affiliate program or use third parties for the marketing. The in-house marketing can be achieved through the use of dedicated software.
Continuous Profit
Since there are no employee costs involved for publishers, he has fewer liabilities. Also, potential clients will keep visiting the website from affiliate marketers not all will convert immediately but you will a warm lead to convert in the future. Using Affiliate marketing gives you an advantage in a competitive market. Its like having a virtual sales team without the monthly salary all you pay is commissions.
As an affiliate marketer once you find that niche with the right number of people searching for the product you have to promote you will get paid on a consistent level.
Less Risky
It is a form of marketing that involves little or no risks at all. It does not require a huge investment to begin hence you have very little to lose. If you as an affiliate marketer feel unsatisfied at any point by the program you are running, you can quit and start another program.
More Traffic
For merchants, even when a referral does not yield any positive transaction, every click to their website is still a plus to their traffic. Still, they are not required to pay since it did not bring about any transaction.
Merchant Has Full Control
How the affiliate programme works is decided by the merchant. From the affiliate marker's compensation rate down to other aspects like how long a cookie stays active before commission is lost, the merchant is in control.
As an affiliate marketer you must read the terms and conditions and see if they work for you. If they do not find another company to promote. The list is bottomless.
Cons of Affiliate Marketing
There's always two sides to a coin despite the value it brings. As advantageous as this marketing method is, it also has some disadvantages. Some of which are stated below.
Reduced Commissions
Since the merchant is in full control, affiliate marker's commission might be cut due to costs and maintenance incurred by the merchant.
A good affiliate marketer is adaptable if a commission isn't cost effective find a new one and keep it moving.
Deceitful Merchants
Some merchants, out of greed, promise high commission rates to get a lot affiliates but do not honor with the agreement after a short time has passed. A common trick merchants will use is have a trial period for referrals to join for let's say 30 days. In the terms and conditions of the affiliate contract after 28 days if referral doesn't sign up then you don't get paid. The trick here is that while you did get the referral to the deal the 30-day trial pushed their paid signup beyond the timed agreement.
Hijacking
Hackers or hijackers can take over affiliate links and then get all the commission belonging to the original owner.
False Adverts
Because of the desperation to get a high commission, affiliate marketers sometimes engage in false and misleading advertising to earn more. They exaggerate and make claims that are not. This at the end might be a loss for the original advertiser of the product as customers end up disappointed.
Dishonesty
Some merchants suddenly shut programs down without prior notification to the affiliates. This act of dishonesty happens without affiliates getting paid their commission.
Unlawful adverts
Some merchants run false adverts and unlawful trade names, logos etc.
How Do You Get Payments?
When choosing an affiliate offer usually through and affiliate network or directly through a company you must weigh up a few things. These are the commissions, how often do they pay and when and finally how what is the payment
There are various payment options available, some of which are:
PayPal: PayPal is the most widely known payment system which is available in all parts of the world without any restrictions. It is an e-wallet. With PayPal, you can receive and transfer money to other businesses or people. Its features include:
Instant money transfer.
Reasonable commission fee.
Affiliates can pay for goods or services of 15 million merchants all over the world.
Withdrawal is free for some countries.
Affiliates can reinvest the money.
PayPal is highly reliable.
Non-flat rates.
Its Mastercard is available to US citizens only.
Paxum: Just like PayPal, Paxum is available worldwide. Its features are:
Present in various Adult Networks.
Available on ExoClick.
Paxum is straightforward.
A flat fee of $2 per withdrawal via ATM.
POS transactions are free.
Paxum attracts $44.95 yearly fee on prepaid cards.
Delayed arrival of prepaid cards and replacement cards as well.
First Choice Pay: This is another e-wallet platform for affiliate marketers. It is available in over 190 countries. Features are:
First Choice master card costs $29.95 yearly.
More profitable than PayPal.
If transaction currencies are matched, usage of First Choice card for an online transaction will attract no fee.
Features a simple and straightforward bank transfer.
It has a referral program.
WebMoney: WebMoney is a popular payment method that is ideal for the purchase of traffic, Web hosting, or domain in countries of the former Soviet Union. Features are:
WebMoney operates in 91 countries.
There's need to set up a WMZ account as an affiliate.
Gives online financial services.
Low fees.
WebMoney funds can be exchanged for other electronic money types.
ePayments: ePayment was developed in 2011 to make payments easy for affiliate marketers. It provides both e-wallet and prepaid Mastercard. It works for over 100 countries. Its Features are as follows:
Allows the use of other payment methods.
Free internal transfers between ePayments wallet.
Free to receive money from some affiliate networks.
Free for incoming wire transfers.
20 currencies prepaid Mastercards
Less popular compared to PayPal and Paxum
Bitcoin: Bitcoin is a fast-growing payment method. Its features are:
Gives no room for interference or third parties.
Requires no identification.
Easy global transaction.
Bitcoins are investments on their own.
Gives no room for refunds after the transaction.
High volatility rate.
Inexpensive.
Other payment methods include Payza, Skrill, Neteller, Western Union, and others.
Why be an Affiliate Marketer?
You can choose to be an affiliate marketer for the following reasons.
It is a cheap business. You can start earning Money with virtually no start-up costs. In affiliate marketing, goods, products or stores are not involved neither do you need to develop services. All that is required is for you to decide on the way you decide on how you want to promote your affiliate link.
For Example:
I have a weight loss affiliate offer
A free method I could promote this offer is go to a weight loss group and interact in the group then post my link when they are used to me.
A paid traffic/ ad method would be to go to google adwords find the correct keywords and pay to put an ad to my affiliate link.
Another method would be to create a website, create lots of content in articles or video then add my link into many of the pages I have created.
3 different ways to promote the same thing and you have the choice of so many more.
Affiliate marketing can develop into a bigger business for you. It is a form of marketing that is much favorable. As you grow in the business and begin to get an overload of work, it gives room for you to hire more hands that will help you. Become a boss without the need for an office and customer support.
It offers Independence for you. Since you work for yourself, you dictate your own working hours and can as well work from anywhere you wish with your Internet connection. No one decides what you earn. Your income will be determined by your efforts and honesty towards your work. At a point, you begin to earn money even while you are sleeping.
Affiliate Marketing is perfect for lovers of competition. Seeing how your site performs against another competitor's site could be fun for you. Different ads, content tone, type or style. You see others and are motivated to compete with them in order to bring out your best. For a competitive person, this business is for you. It could be quite addictive and interesting.
With this marketing method, you can maintain your integrity as much as you want. Since you are your own boss, you cannot be forced to work with those you do not like. You could also decide not to advertise products you do not believe. With affiliate marketing, you can say no to false advertising.
You do not have to lie or exaggerate for any brand. You can choose to be honest with affiliate marketing except you want otherwise.
Does it Cost to Join an Affiliate Program?
Joining an affiliate program should be absolutely free! I would advise not to join one that charges because there are a lot of free programs for you. To join an affiliate program, all you need to do is:
Join an affiliate network site.
There is an online application form available for you to fill out if you want to be a member. Ensure you do that and include all the necessary information such as your name, address and your preferred payment method.
In some cases, you will have to complete an interview.
Once all these are done and your application has been granted, you will start by picking an affiliate program of your choice. There are some many free affiliate programs there for you, so you do not want to pay for one. Merchants running the programs will review your program. Once you are fully accepted the affiliate network will put you through the process and you can get started.
Do you need qualifications to be an affiliate marketer?
There are no required qualifications to become one. Nevertheless, having a good knowledge of copywriting plus marketing skills is a big plus for you.
Earning Money as an Affiliate Marketer
To earn money as an affiliate marketer relies on you finding the ideal client for your merchant. You earn some amounts as your client sells his/her products through you. To successfully earn you have to:
Pick a business model and work out the best method to deliver the affiliate link to your potential audience.
Some options you have are a blog sites, review sites, niche sites. While resource sites place a merchant's website in an affiliate link or placement of a banner advertisement in between how to articles or posts, the review sites do reviews on products and services that the reviewer has used before and can testify to its quality. Niche sites are specific to a product or market and will basically not venture too much from that topic
Build a website as you need a platform to work successfully as an affiliate marketer. If you already have one, then you may skip this. It is on your blog or website that you can advertise products and services 24 hours a day on automatically and build email lists effortlessly when your site is polished.
Specialization is important. Ensure you select a niche and research the best keywords to target. This will help your target audience find you successfully and you make your money after referrals. Pick a niche that you love and have the will to remain patient with since you might not earn much immediately you begin.
Work with affiliates. This will help you grow your website and widen your skills.
To earn well you have to drive traffic to your website. Find a traffic method that best suits you and your budget. Paid traffic may work best at first to boost your site. Social media traffic may also help as well. Remember all traffic is not good traffic it needs to be targeted.
Ensure you study and learn from other affiliates, this will help you build and drive traffic to your website adapt things that work.
Free methods do work for affiliate marketing do exist as well. These are more time-consuming but do work with what works best for you to start. Free methods can give you a deeper insight into the working of affiliate marketing and how to promote yourself to an audience.
Affiliate marketing is a great money earner for those wanting to get out the 9-5 rat race and make so incredible money if done correctly. This is being done by people all over the world with various experience levels when it comes to the internet. Some people work on a site for 3 -4 months create the content and leave the site to just rank on Google for the next few years. Next time you are on a site check the content date if it's not recent it's a niche site and the internet is full of them. This is how money is made automatically. How can you not love idea of this type of marketing?
I love it. And I think you will if you made it this far.
Good luck